Emily Dow Partridge
and Family

Click on the pictures for additional shots if available.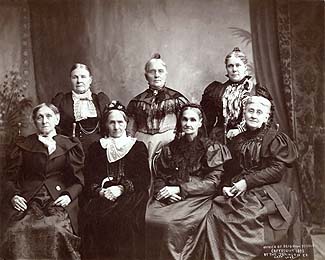 Seven wives of Brigham Young, 1899
Back, L-R: Naamah Carter Young, Lucy B. Young, Amelia Folsom Young
Front: Margaret Pierce Young, Zina D. H. Young, Emily Dow Partridge Young, Harriet Barney Young
Courtesy of L. Tom Perry Special Collections,
Harold B. Lee Library, Brigham Young University, Provo, Utah
Note: If you have photos of Emily Partridge or other family members that you would be willing to have scanned (no more destructive than a photocopy), please contact Ben Parkinson, webmaster. We plan to make high-resolution scans and/or reprints available to all family members.