Hiram Bradley and
Emily Augusta Young Clawson

Click on the pictures for additional shots if available.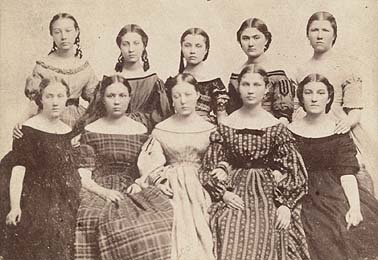 The "Big Ten" older daughters of Brigham Young.
Back, L-R: Zina (Card), Evie (Davis), Jeanette (Easton),
Mary (Croxall), Maria (Dougal)
Front: Rinda (Conrad), Caroline (Cannon), Ellie (Empey),
Emily A. (Clawson), Fanny (Thatcher).
Courtesy of L. Tom Perry Special Collections,
Harold B. Lee Library, Brigham Young University,
Provo, Utah
Brigham Young Family Members
Home of Phoebe Beatie
Back, L-R: Mrs. Hyde Young, Mrs. Willard Young, Mrs. Mahonri Young, Mrs. Nelson Empey, Mame Croxall Young
Middle: Emily Y. Clawson, Maria Y. Dougal, Zina D. H. Young, Zina Young Card, Eva Y. Davis, Caroline C. Cannon
Front: Josephine Young, Mrs. Len Hardy, Susa Y. Gates, Phebe Y. Beatie, Myra Rossiter, Hattie Y. Cannon
Courtesy of BYU Special Collections
Daughters of Brigham Young
Emily A. is middle row, 2nd from left
Can anyone ID the other daughters?
Courtesy of BYU Special Collections
Hiram with his daughters
about 1880 (1877?)
Front, L-R: Georgia, Kate, Tessie,
Bessie, Ruby, Alice, Edna.
Back: Phoebe, Ivy, Mary, Edith,
Ardella, Carlie Louine (Lulu), Nell, Winifred, Terresa.
Courtesy of Louine Y. Cromar
Hiram with his sons, about 1877
Front, L-R: Fred, Stan, Brad, Hiram, Sell, Spence
Back: Sid, Walt, Rud, Lee, Will
Courtesy of Scott Clawson
Note: If you have pictures of Hiram, Emily A., or other family members that you would be willing to have scanned (no more destructive than a photocopy), please contact Ben Parkinson, webmaster. We plan to make high-resolution scans and/or reprints available to all family members.